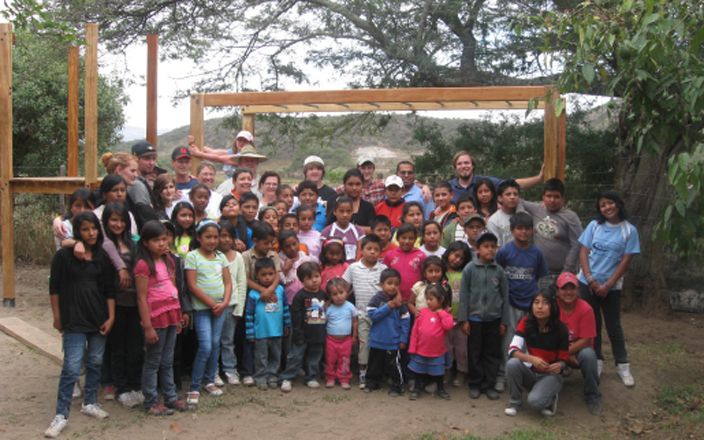 We were truly blessed in the beginning of August by a visit from a team of 12 from Ooltawah UMC (The E Team). They came with open hearts, open arms and lots of energy. They needed all of that to keep up with the Puerta de Esperanza (Door of Hope) youth group. The team (12) and our youth group (27) worked together with us and the ministry leadership team to build playground equipment for the children,
dig a reservoir, move brush, learn English and Spanish, play games, laugh and cry together as we learned about King David's victories and failures.
After three days of very hard work we all boarded a bus and headed out on a grand adventure. The destination was kept a secret until all were on the bus, then it was announced that we would be going to a place called Mindo which is in the cloud forest region. The activity though was still a secret for the moment , it was enough just to be together going anywhere.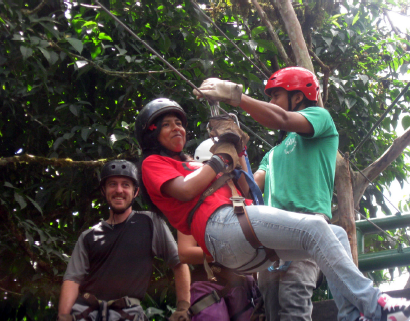 Once arriving in Mindo we proceeded to a place called "Canopy Adventures" which has cables suspended above the tree tops and over deep ravines. The youth were in awe of what they were getting to do. After all had past the 14 cables we went down to the river for a quick swim and lunch. Daina asked one of our youth afterwards "Was all the work worth it?" And they responded "What hard work?" We are trying here at The Door of Hope to make an eternal impact on the lives of our youth. They have so many dreams and desires but little hope of seeing any of them come true. We are trying to help them see that through a relationship with Jesus that there is hope. We have been so blessed by our partnership with Ooltewah UMC as well as many other churches. The Door of Hope youth were impacted with eternal blessing that can never be measured or seen fully this side of heaven.
Thank you E Team and all those from Ooltewah UMC who supported them and support us.