MY GOD IS SO BIG
By Daina
My God is so Big, So strong and so mighty. There is nothing my God cannot do. He is the father of my greatest desire. He is inexhaustibly interesting and He invites me to sit in His presence. How awesome is that? He is also the supreme reconciler because He wants His kids to love each other, just as every parent desires of their children. We regret that we have neglected the desire of God to be intimately connected, even across continents. Forgive us that we focus more on who we see rather than all of you who He has united us with. Our desire is to share with you all that God is doing here in the hearts and lives of His children, then another need
A GIFT
Let me introduce you to Luis, a 5 yr old who is a joy to me. We call him Luchin because his brother who is really his uncle is also named Luis. He came to us by way of his grandmother who is a faithful sister in Christ. His mother gave him to her because her boyfriend and his family could only accept her if she had one child so she chose the younger brother. He has suffered much through this transition with unstable emotions and he comes to tears easily. He is doing much better now thanks to some stability and much love. His grandma has been given another chance to raise a son in the Lord, she has 9 older children, most raised in a loud and violent home without Christ to give them guidance and hope. We come alongside the family as they love Luchin into the larger family of God, please lift them up with us.
PLANTED ON THE ROCK
By: Kevin
I got married!! Esther and I started dating in February of 2011, got engaged in October of 2012 and got married on April 21st of 2013. The wedding took place at my parents' house/church Puerta de Esperanza. We wanted to cement the idea that we were planting our family on the rock of Jesus Christ so when we took our vows, instead of kneeling on an altar, kneeling on a flagstone that has our initials and a cross engraved on it. We were incredibly blessed by the youth from church who worked incredibly hard as waiters and waitresses at the reception. We are living at my parents' house for now while I finish seminary. I would like to take this opportunity to thank all of you who have faithfully supported my family through your prayers and giving all these years because I would never have met my wonderful wife if it weren't for you. She will write to you in a future update so you can see for yourself what a gift she is. We could use prayer for wisdom in the next few years of transition as we seek God's will in serving Him.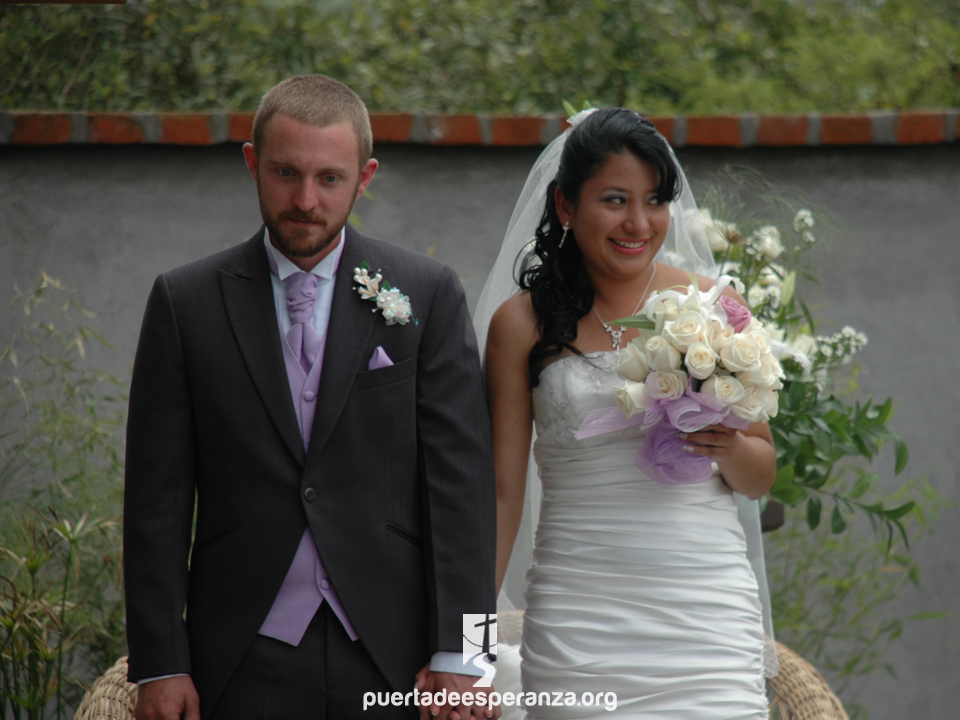 Kevin & Esther
COMPASSION INTERNATIONAL
By: Kevin
Puerta de Esperanza opened a Compassion International project here in Chaquibamba, Esther is the Director, Daina is the children/spiritual coordinator, and Tim is the health/food coordinator while I am the education/youth coordinator. The project opened with 54 sponsored children that were transferred from another project that closed last year, in July we will be adding another 35 children ages 3-8. The kids come to the church 2 times a week: Thursdays after school and Saturday mornings. We are planning a youth retreat in early August and VBS for the kids in the same month. We could use prayer for God to provide people to help as tutors and coordinators, and for sponsors for the new kids.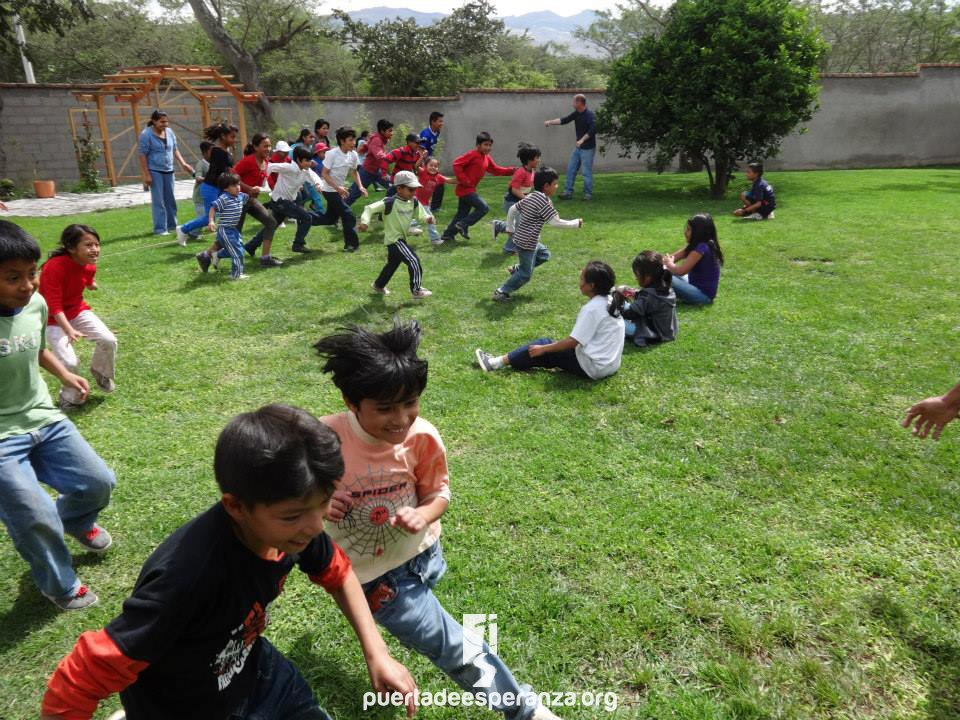 Having fun playing games
GROWING PAINS
By Tim
God is on the move here at The Door. He is keeping us busy with opportunities to expand the ministry here and be a part of His growing Kingdom. Since we have partnered with Compassion International our ministry to small children has grown. As a result of this growth we have seen the need rather Daina has seen the need for some time to rent a small building closer to the main part of our town. This would be used for ministering to the small children so they will not have to walk so far on their own during the
week. Also this would be used to start a library for the community as well as a place for our youth to have Bible study and ESL during the week. We have found a location and worked out a fair price for the rent. But the enemy is in the middle of this and the owner of the building is being pressured by a different religious group to not rent it to us. Please join us in prayer that this stronghold would be torn down and that God's will would be done . God is doing great things here and around the world but we
need to always be ready to move with Him when He calls us to do so.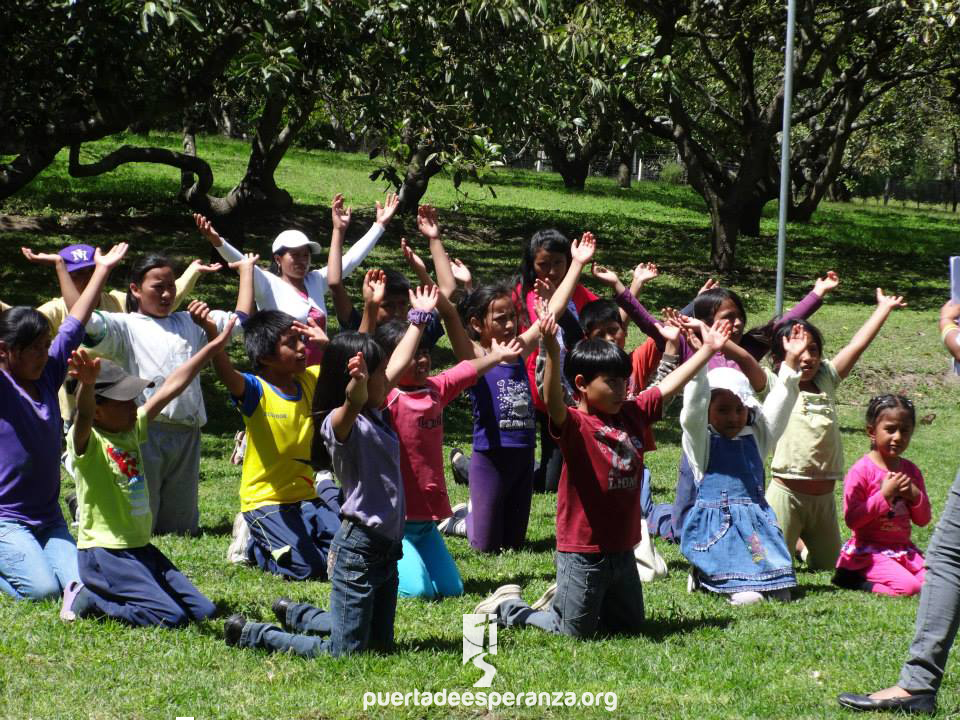 Praising God with hands lifted high
"DAYS"
By: Kevin
Over the last couple months all around the world we have been celebrating lots of "days" Mother's Day, Father's Day and Children's Day. Here at Puerta de Esperanza we celebrated each one of them and each one of them had their own special surprises. Mother's Day was a little strange for my dad and I because my mom left for the US the day before. We got to celebrate it with all the moms that come to church here and they were all very blessed. On Children's Day we had lots of kids and played games and we watched a movie together at the Door of Hope cinema. Father's Day was a wonderful time, although we only had 4 fathers present we were able to bless them on their day and a week later we had a special dinner made by their families. These celebrations where a big blessing for the families in this community where we serve. Please pray for God to guide us in how we can continue to gain influence in the community, to see more families come to know the transforming love of God in the face of Christ.
BE PART OF PUERTA

Tim and Daina Datwyler
P.O.BOX 922637
Norcross, GA 30010
We are on the web!
Prayer is a big need as the Datwylers move forward. Find ways to pray for them or even help them financially here:
The Mission Society.org/where we serve/Ecuador
Phone: 593-8-200-5555
E-mail: datfam4ecuador@gmail.com
Skype: TimDainaDatwyler
TAX DEDUCTIBLE GIFTS MAY BE SENT TO:
The Mission Society
P.O.BOX 922637
Norcross, GA 30010-2637
DESIGNATE GIFTS: "DATWYLER SUPPORT 5/255/DY"
The Danger in Abundance
Heavy rains make the grass grow—along with it the weeds grow even faster. Be diligent to pluck out the weeds before they take over. Or the job of cleaning the weeds can get so overwhelming that you just learn to enjoy the weeds and forget about the beautiful lawn or flowers. The same is true for us when He showers down His blessing. Are you comfortable?