When you wonder
Have you ever wondered if anything is sinking in? I remember as a parent, as a youth leader, Sunday school teacher or small group leader thinking that my words and prayers were just like water flowing through my hands and down the drain as I would listen to my kids or students five minutes after class. As I see now in my three children and many others, I know He was at work the whole time.
These thoughts reveal my lack of faith in Gods work in other lives because I am impatient to see results or some evidence of a heart change. In recent months I have been looking for this evidence in the lives of about 100 people we have ministered to, loved, counseled, taught, visited and worshiped with for years – is it making any difference? I have been asking God to show me.
"Now may the Lord of peace Himself give you peace at all times in every way. The Lord be with you all." 2Tes 3:16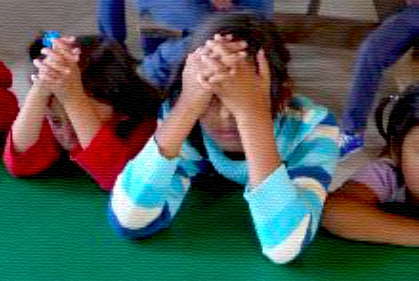 He has given me glimpses or snapshots of transforming lives.
A boy named Justin got hit by a car and was hospitalized for a week with a compound fracture of his leg. He was in a lot of pain when his mother arrived so he begged her to pray with him and continued for weeks always asking to pray as he recovered and is now back on his feet.2 year old Javier comes early since his mom is our new kitchen helper is a six year old servant who joyfully cleans all the tables before going to play. Luchin fell from the monkey bars and hurt his arm so Sylvano stayed and comforted him until we could get him a ride home.The youth with their notorious blind selfishness are now working in teams to clean up and supervise kids during free time. Erika choose not to take a Saturday class in the university so she can be a student leader here on Saturdays. Maria, Erika and Graciela show up to work around the property a few days per month. Gloria and her kids harvest and sell avocados. As you can see, God is getting them and transforming lives through us, you and me. In my case it proves He can use anyone for His Glory.
Rapid-fire Blessings
We share with you the same joy as Paul writing to the Philippians, "I know how to be brought low, and I know how to abound. In any circumstance, I have learned the secret of facing plenty and hunger, abundance and need. I can do all things through Him who strengthens me." Philippians 4:12-13.
We share with humble and thankful hearts the answer and provision of unceasing prayer. In the span of one month all the following was put in our hands. Praise God with us for each blessing as well as those we are still praying for.
Flowing water for dry ground – deepened well and new pump
Wall and fence extension – clearing the long side of the property, funds for workers to pour a four foot high retaining wall with a block wall on top.



fund for the continuation of the retaining wall with chainlink on top to
provide a more permanent safe place for the kids.
3 computers for new computer lab.
Guitar and drum box for worship.
Lawn tractor
A new vehicle – 2013 Suzuki Grand Vitara – No words for those who made this a reality.
Benjamin Jong Cruz – Our newest grandson gets his forever home in Kellyann's arms after spending his first two years in an orphanage in China.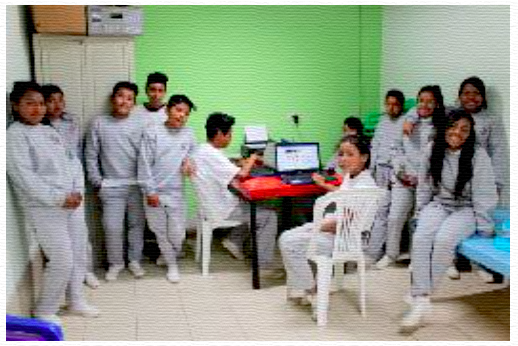 Two short term teams bless and encourage us (see article).
This list of physical needs being met – God put us on earth with many needs which He longs to provide – Trust us when we say that all of these " things" translate into more fruitful ministry.
Student leadership
I have been doing some studies in the scriptures of God calling folks to ministry. It came to my surprise that a good majority of the folks that where called by God where under the age of 20. As many of you know for years Daina and I have been discipling and leading our children, youth and adults. It has always been our
prayer that what we have taught and testified would bring fruit in their lives. We have been so blessed by the answer to our prayers in the last couple years.
"Jesus told His disciples to pray for more workers….."
To start with we have two young ladies that have been with us since the beginning of ministry here in Ecuador. At that time they were just young girls. Erika Lanchimba and Paulina Ayala are both studying in the university. Erika is studying marketing and Paulina is studying civil engineering. We are so proud of them and how God has blessed them so richly. They continue to be part of our leadership team here at The Door of Hope. They do many tasks here from leading worship services, teaching youth, teaching kindergarten age kids and etc…….. We praise God for these leaders He has raised up.
Next we have what God has been doing with our youth. He has brought together a group of teenagers that have a hunger and thirst for His word. They desire to be filled with Gods Spirit and serve Him. Since the beginning of the year consistently we have had 40-45 youth every Saturday. We have covered a lot of difficult subjects that are relevant to their everyday lives. I kinda figured that some may not come back after these talks but they did return and some have even brought friends. At the beginning of this school year we divided them into work groups to help with the children after youth group. They have embraced these simple tasks as their ministry. God is so good.
The biggest advance this year by far is the blessing of our worship team. In September we had our first worship service with our own worship team. It took five years of prayer but it has payed off. They are not perfect by any means but they are doing their best to lead us into the throne room of grace. They are all, I might add, under the age of 18. Student leadership in action. Praise God for His abundant mercy and grace. What a privilege it is to be a part of what He is doing here and being able to see the fruit He is producing.
"Conectado con Dios" "Connected to God"
Our youth group decided that we should have a name. So we held a competition for a name and logo design. We gave the youth a month for those that wanted to compete. We combined the selection of the name and logo with a Wii competition/event.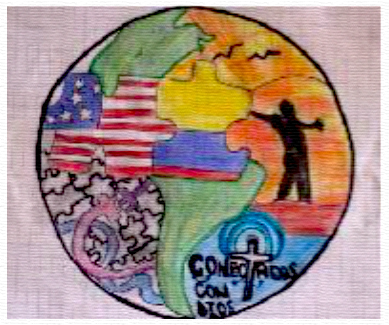 We had 8 entries that were very well done. Part of the event was that each entry explain the meaning of the logo and the name. After much deliberation we the leaders of the youth group selected the name "Conectados con Dios." The logo shows two continents North and South America connected through Jesus Christ. It also shows how dependent we are and must maintain this connection with God and one another. We are very proud of Maribel and Nancy Ayala for their hard work and design.
WOW, Just wow!
We finished 2 arduous, exhausting and incredibly blessed weeks. 2 Mission teams in two weeks, we could not have planned it to have such a Big Impact. As we rest and recover from the non-stop, we are counting grace upon grace and basking in Gods love abundantly displayed by those sent here to serve alongside those who received so well. Let me tell you about these two teams sent by two churches from two countries by God's will and strength to be united with His open arms.
The first to arrive came from our old ministry ground in Monterrey, Mexico, sent by Vina del Rey pastored by fellow TMS missionaries and dear friends Florencio and Maria Guzman. Each of the four young adults and three youth, faced and overcame many obstacles, battles and challenges just to get here with their ready to bless attitudes. They hit the ground running and joyfully maneuvered the packed and ever growing ministry schedule. They taught parents, ministered to our leaders, poured into our fledgling worship team, 3 day VBS with 80 kids, made home visits, loved and guided 40-50 youth through some heavy personal lifestyle issues, helped a little on the wall building, brought and installed the network and extension for WiiFi, bought new speakers and instruments ……. They deeply blessed and impacted all of our lives. Many tears were shed at the good bye celebration. The key to such impact was not just because they spoke Spanish but because they came to serve however, with whatever we needed. Plans did change and challenges were met with prayer and encouragement. We consider it pure joy to be in a covenant relationship with Vina del Rey after working alongside them 15 years ago when these team members were children and youth. Thank You Johnny Guzman for leading, loving, serving and following as well.
The next team was sent by one of our long term supporting churches, faithful to God's call in the ministry of our family for over 15 years, Ooltewah UMC from TN. This team of five hard working and deeply loving adults rekindled friendships with home visits and has watched Door of Hope kids grow through the years. With sweat they helped build the fence/wall, dug a dry sink for the gray water from the ministry kitchen, built columns for the block wall, painted the ministry bathroom stalls as well as general cleaning. They also helped dig our well deeper to provide much needed water for the ministry area and they brought many tools for carpentry and electrical workshops. We are always, ALWAYS encouraged to have our OUMC family under our roof, Thank you good and faithful servants.
Our newest Grandson Ben with Kellyann